OUR SAILBOATS
CAPE COD 896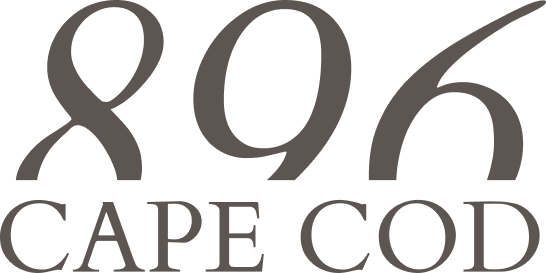 " Pleasure boating refinement "
The refinement of "La Belle Plaisance"
Cape Cod 896, embodies the spirit of Belle Plaisance tradition. Its neoclassical lines, combined with modern manufacturing, provide the best of both worlds: the enjoyment of Belle Plaisance without the hassle of construction, fittings and maintenance. Acclaimed by experts, it combines exceptional quality in design and finish with exemplary balance under sail. The distinctive design, with its arch in the spirit of traditional sailing yachts, lends a distinctive allure on the waves. This is the iconic, historic boat of the Rosewest shipyard, with over 30 editions produced, half of which are sailed on waters outside France!
An epicurean dayboat
Designed to suit all sailors, the Cape Cod 896 is a versatile yacht that can be sailed solo, as a duo, with family or friends. It can accommodate up to 8 people on board. All the essentials are brought aft to the helmsman for easy navigation. A small, livable sailboat, it has a cabin with plenty of storage space and two berths for spending one or two nights on board; "good sleeping length and width" with a minimal level of comfort, but acceptable for a dayboat. Maintenance is remarkably simple, thanks in particular to the optional use of synthetic teak, which offers the perfect illusion of real wood.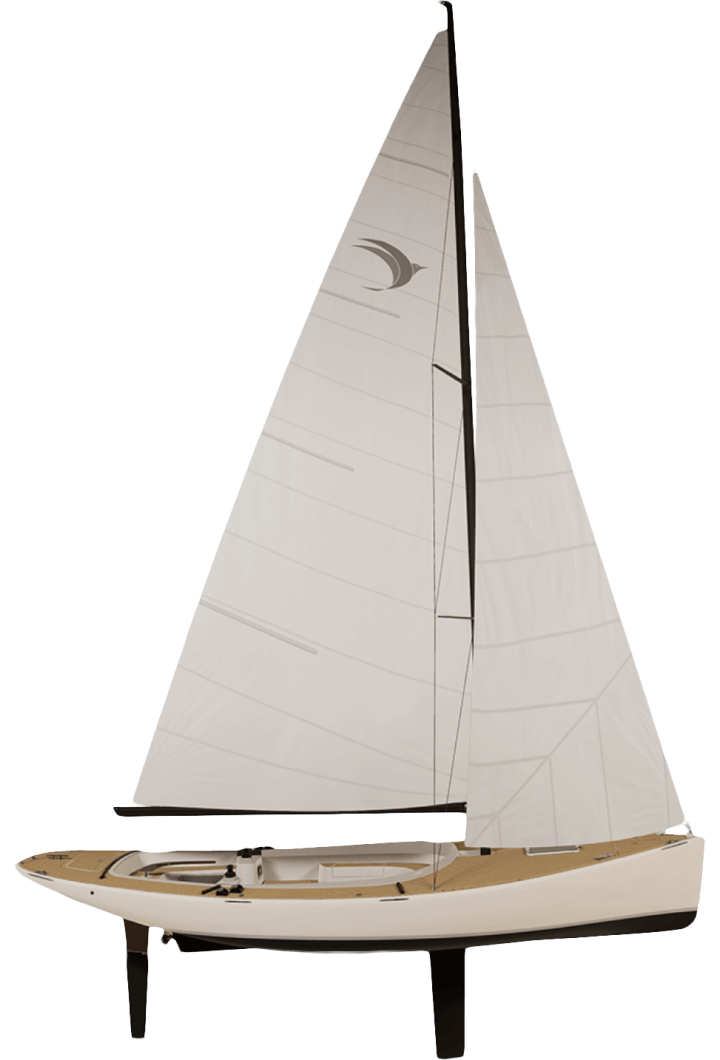 Integral dinghy, beachable
Cape Cod 896 is an integral dinghy. It offers unparalleled stability, lying flat thanks to its 43 cm raised centerboard, ideal for strong tidal conditions. This exceptional yacht is also distinguished by its high-performance features. With its fully retractable keel and retractable bowsprit, it offers a smooth, seamless sailing experience. Everything is seamlessly integrated, with retractable blocks and cleats for a flush deck. All headsails are furled: genoa, jib, solent and spinnaker. Last but not least, its retractable table offers unparalleled comfort for a picnic at anchor.
Accessible operation and maintenance
Whether you're a sailing enthusiast or a seasoned sailor, the Cape Cod 896 will win you over with its timeless charm, unrivalled performance and ease of sailing. All the essentials are brought back to the helmsman at the stern. It features intelligent details for ease of use and maintenance. Transportable by special convoy, she can be launched, trimmed and rigged quickly.
Hull length

8.96m

Width

2.73m

Draft

0.45 to 1.45m

Mainsail

25.6m²

Jib

14m²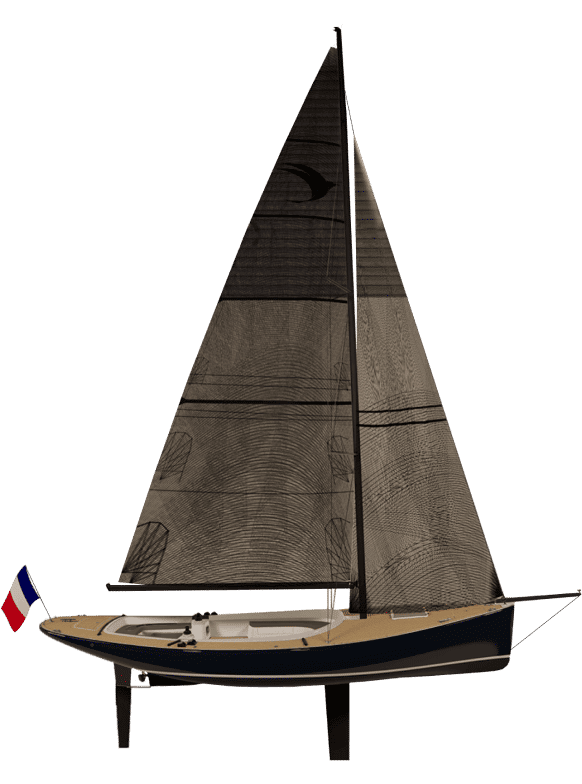 Specifications
Hull length
8.96m (29.40ft)
Overall length
10.80m (35.43ft)
Width
2.73m (8.96ft)
Top draft
0.45m (1.48ft)
Bottom draft
1.45m (4.75ft) to 1.85m (6.07ft)  (optional)
Mainsail
25.6m² (83.40 sqft) or 30.5m² (100 sqft)
Jib
14m² (45.93 sqft) or 15.6m² (51.18 sqft)
Gennaker
40m² (131.23 sqft)
Weight
1450kg (3197lbs)
Design category
C
Maximum passengers on board
C/8
Engine
15HP Diesel inboard
Architects
Rosewest
Hull
Vinylester and polyester laminate
Deck
Vinyester/ polyester/Airex core laminate, epoxy bonding
Pivoting centerboard and rudder
STANDARD EQUIPMENT
Deck covered with synthetic teak slats
Black-lacquered aluminum rigging
Lazy jack
Automatic reefing system
Retractable aluminum bowsprit for
spinnaker/yankee/gennaker
FACNOR carbon furler + equipment for yankee/gennaker
HARKEN mainsail track
Adjustable backstay
Additional halyard for spinnaker/gennaker/jib cover
Jib furler FACNOR flat-deck
Electrical panel
75-amp battery
2 bilge pumps, manual and electric
Inboard 15HP YANMAR diesel engine
25 l diesel tank
2-blade propeller
Pivoting centreboard with winch lift 1.45m
Furling gear, boom vang, self-tailing winch 35 HARKEN
Halyard clamps
Retractable cleats and 4 stainless steel fairleads
Bathing ladder
Stainless steel flagstaff
Self-draining cockpit covered with synthetic teak slats
Synthetic teak footbraces
Black composite halyard and winch brackets
1 mast toe locker
1 large anchor locker
1 large aft locker
2 cockpit lockers
6 interior lockers
Hull and deck color Ral 7044 (silk gray)
ADDITIONAL EQUIPMENT
Burmese teak deck, cockpit and benches / varnished mahogany coaming andwinch tray
Self-tacking jib track + equipment
Classic or Performance sails
3-blade self-steering propeller
Mainsail cover
Sock" cover for one or two headsails
Sun cover
Cockpit cover
Complete winter cover
Pivoting centreboard with winch lift 1.85m
Complete cockpit upholstery
Complete cabin upholstery
Retractable table in synthetic teak or natural teak
Deck shower
Chemical toilet
Navigation electronics package
Armament/security pack
Wetting/defense pack
Non-standard color polyurethane paint finish
CREATE A CAPE COD TO YOUR IMAGE
Use our 3D configurator tool to create the sailboat that suits you.
INTERESTED IN CAPE COD?
You want to talk about it by phone or email. Leave us your contact details- including your sailing area –  to be contacted !