OUR SAILBOATS
CAPE COD 896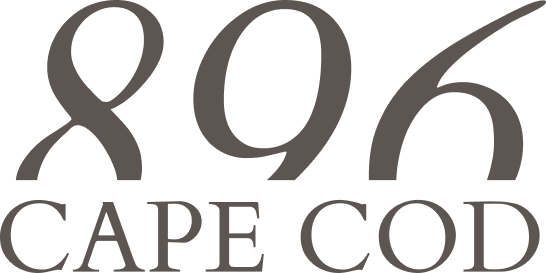 " Pleasure boating refinement "
Alone or with a crew
Cape Cod 896 integrated the requirements of solo sailing at the early stages of its design. All maneuvers are sent to the back, thus offering the helmsman complete autonomy.
Mooring
The Cape Cod's bathing ladder, its shower, the inviting sunbathing area, the huge cockpit and the ingenious table are all thoughtful touches to help you live an unforgettable day.
Later in the day, the two proper bunks will encourage you to enjoy a restorative nap or spend the night on board.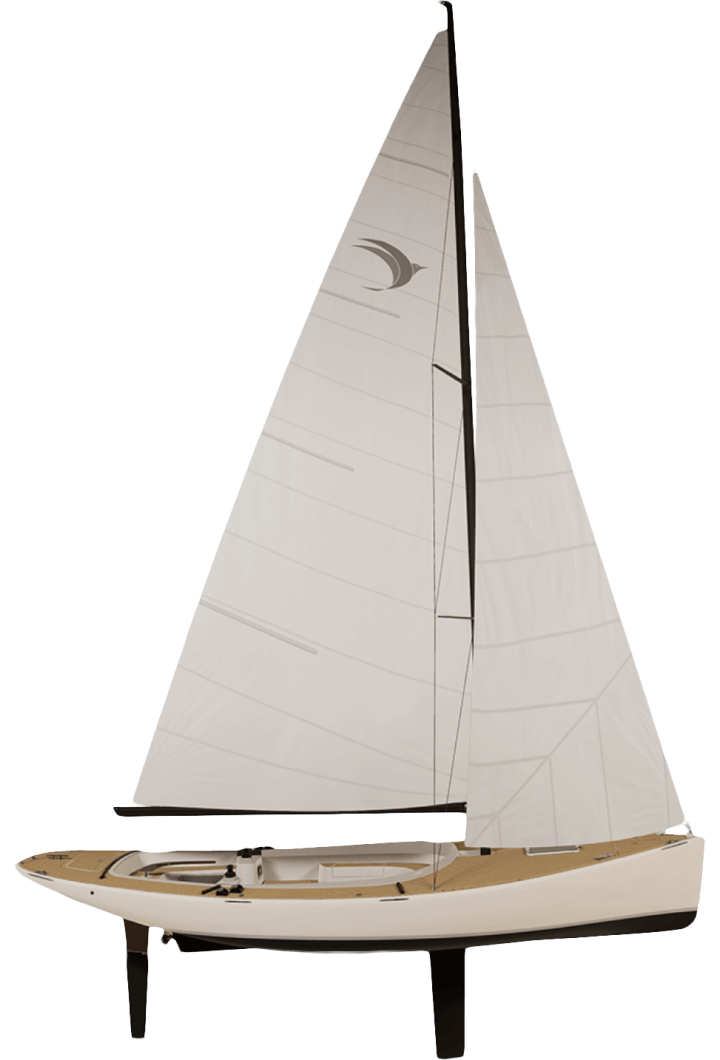 In a regatta
Cape Cod 896 performs incredibly well, regardless of its appearance! Experience vivid sensations thanks to a generous sail plan and high quality fittings.
Amongst friends and family
Cape Cod 896 comfortably holds 8 people. Children will find the front cabin an ideal refuge. Thanks to its very low draft of 45 cm, you can easily beach to enjoy sites deemed inaccessible to larger sailing boats.
Hull length

8.96m

Width

2.73m

Draft

0.45 to 1.45m

Mainsail

25.6m²

Jib

14m²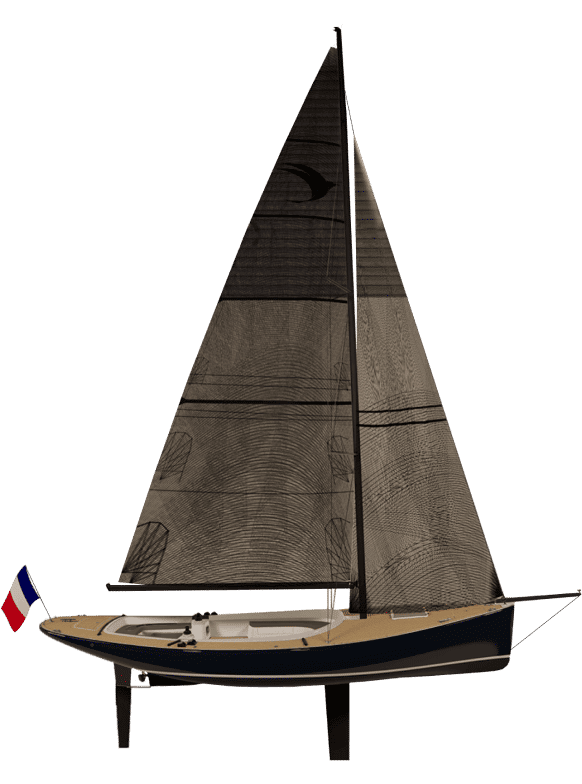 Specifications
Hull length
8.96m (29.40ft)
Overall length
10.80m (35.43ft)
Width
2.73m (8.96ft)
Top draft
0.45m (1.48ft)
Bottom draft
1.45m (4.75ft) to 1.85m (6.07ft)  (optional)
Mainsail
25.6m² (83.40 sqft) or 30.5m² (100 sqft)
Jib
14m² (45.93 sqft) or 15.6m² (51.18 sqft)
Gennaker
40m² (131.23 sqft)
Weight
1450kg (3197lbs)
Design category
C
Maximum passengers on board
C/8
Engine
15HP Diesel inboard
Architects
Rosewest
Hull
Vinylester and polyester laminate
Deck
Vinyester/ polyester/Airex core laminate, epoxy bonding
Pivoting centerboard and rudder
STANDARD EQUIPMENT
Deck covered with synthetic teak slatsBlack lacquered aluminium rigging
Lazy jack
Automatic reefing systems
Aluminium retractable bowsprit for spinnaker/yankee/gennaker
FACNOR Carbon furler + Yankee/Gennaker equipment
HARKEN mainsail track
Adjustable backstay
Additional halyard for spinnaker/gennaker/jib cover
FACNOR flat-deck jib reel
Electrical board
75 amp battery
2 bilge pumps, manual and electric
15HP YANMAR Diesel / in-board engine
25l diesel tank
2 blade propeller
Pivoting centerboard with winch lift 1.45m
Block and tackle, boom vang, HARKEN 35 self-tailing winch
Halyard blockers
Retractable mooring cleats and 4 stainless steel fairleads
Bathing ladder
Stainless steel flagpole
Self-draining cockpit covered with synthetic teak slats
Synthetic teak footrests
Black composite halyard and winch brackets
1 mast foot rope locker
1 large anchor locker
1 large aft locker
2 lockable cockpit lockers
6 interior lockers
Hull and deck colour Ral 7044 (silk grey)
ADDITIONAL EQUIPMENT
Burmese teak deck, cockpit and benches
Varnished mahogany winch and winch plate
Self-steering jib rail + equipment
Classic or Performance Sails
3-blades propeller with automatic steering
Mainsail cover
Protective cover for one or two front sails
Sun canopy
Cockpit protection cover
Full protection cover for winter
Full cockpit upholstery
Full cabin upholstery
Folding table in natural or synthetic teak
Deck shower
Chemical toilets
Electronic navigation pack
Emergency pack
Fender pack
Non-standard colour polyurethane paint finish
Pivoting centerboard with winch lift 1.85m
CREATE A CAPE COD TO YOUR IMAGE
Use our 3D configurator tool to create the sailboat that suits you.
INTERESTED IN CAPE COD?
You want to talk about it by phone or email. Leave us your contact details- including your sailing area –  to be contacted !