OUR SAILBOATS
CAPE COD 767 – Lounge

"LOUNGE Comfortable and invigorating"
With a reduced crew
The Cape Cod 767 LOUNGE is built for solo or reduced-crew sailing.
The large cockpit with its ergonomic design allows for smooth and safe movement on board.
In mooring
The generously-sized cockpit, comfortable seating benches and the telescopic table invite you to precious convivial moments.
Later on, the generous front sundeck and its lounger position will induce you to heavenly naps.
The two berths in the cabin will enable you to stay overnight and enjoy a magical lie in.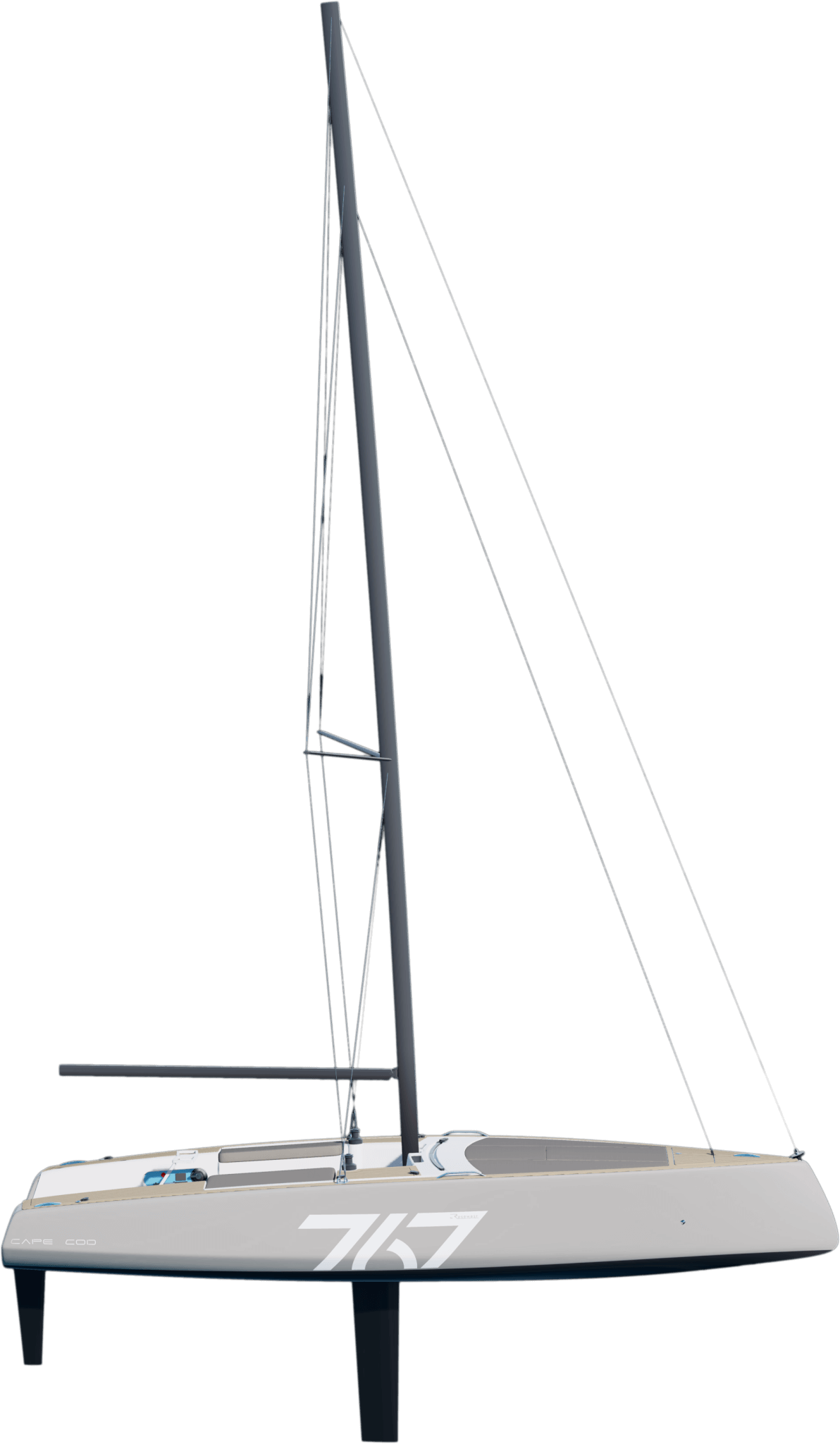 Amongst friends
The pivoting centreboard (swivel drift) will allow you to explore places inaccessible to larger sailboats.
Thanks to its very low draught – 22 cm (0.72 ft) and its integrated bathing ladder, you can easily beach on dry land.
In regatta
A sporty boat to sail alone or with a crew. Invite your guests on board for a pleasure ride or at the wire trapeze.
The Cape Cod 767 LOUNGE offers a new form of elegance and style as a day-boat or a weekender. It delivers real performance whilst maintaining a good level of comfort.
Hull length

7.67m

Width

2.54m

Draft

0.22 to 1.80m

Mainsail

20.4m²

Jib

23m²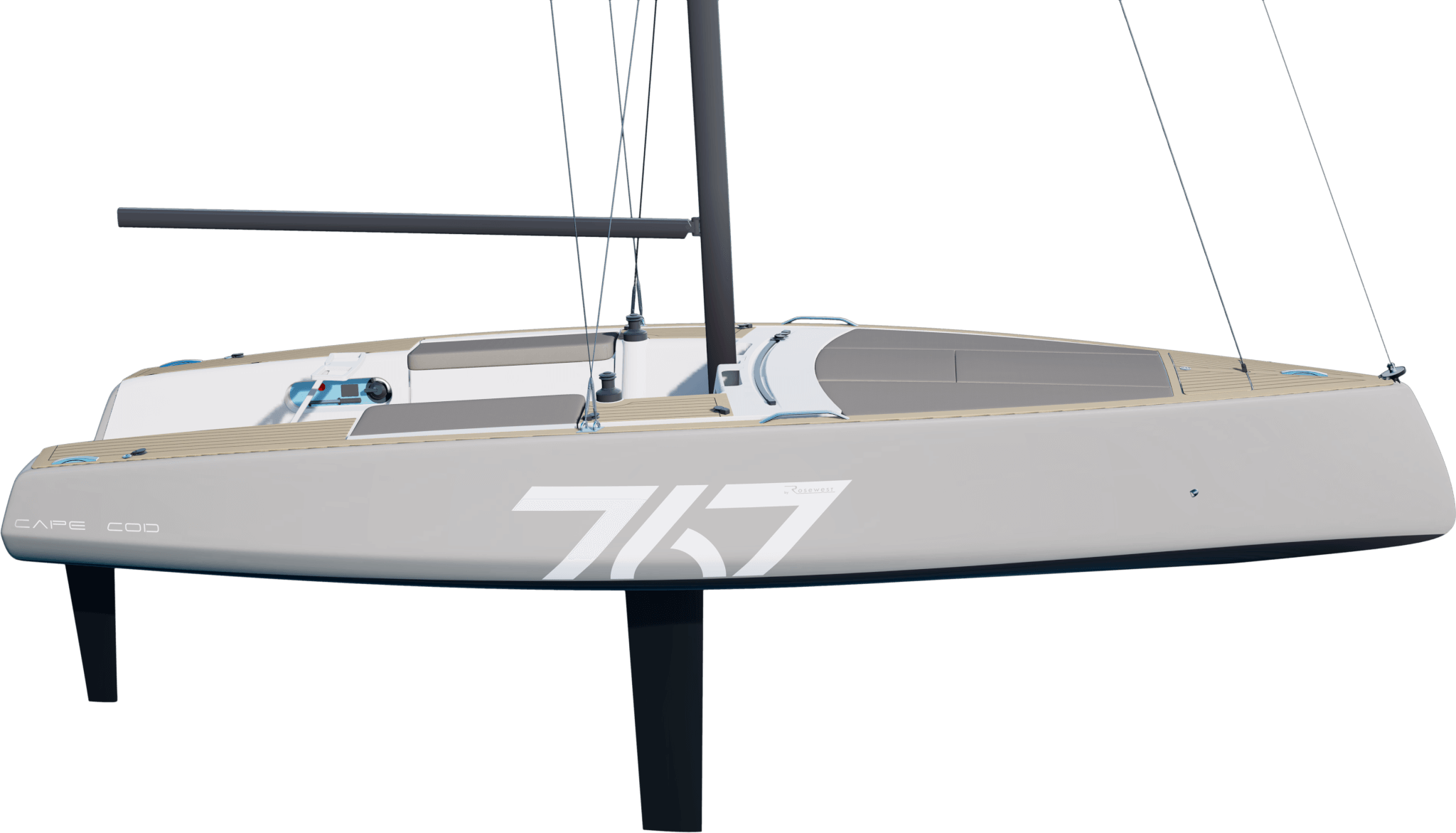 Specifications
Hull length
7.67m (25.16ft)
Width
2.54m (8.33ft)

Top draft
0.22m (0.72ft)
Bottom draft
1.80m (5.91ft)
Mainsail Fully battened polyester sandwich composite
20.4m² (66.93ft²)
Self-tacking Solent with vertical battens, polyester sandwich composite
11.5m2 (37.3ft²)
Code 0
Mylar PX Black: 23m² (75.45ft²)
Asymmetric Spinnaker PU coated nylon Superkote
55.5 m² (182.09 ft²)
Weight
1100kg (2425 lbs)
Design category
C
Maximum passengers
C/4
Engine
5HP outboard or electric
Architects
Rosewest
Hull
Polyester infusion
Deck
Polyester infusion / Airex core laminate, epoxy bonding
Pivoting centreboard and rudder
STANDARD EQUIPMENT
Creamy-white deck covered with synthetic teak slats and black joints
Choice of hull colours: grey pearl, cream, red, green, blue, black
Black anodised aluminium rigging
Lazy jack
2 Mainsail reefs
3 Sails in composite polyester – Mainsail/Solent/Code 0
FACNOR carbon furler + code 0 equipment
HARKEN below-deck Solent reel
Bilge pump
Hydraulic pivoting centreboard
Pulleys and HARKEN winches
Halyard blockers
3 stainless steel retractable mooring cleats
Removable bathing ladder
Built-in bathing ladder
Stainless steel flagpole
Self-draining cockpit covered with synthetic teak slats
Telescopic table covered with synthetic teak slats
Foot-rests
2 mast foot rope lockers
1 anchor locker
2 large lockable cockpit lockers
2 bench seats with lockers and removable upholstery – choice of upholstery colours
Large front sundeck – choice of upholstery colours
2 berths – choice of upholstery colours, 4 lockers, chemical toilets
ADDITIONAL EQUIPMENT
2 trapezes
Sail membranes DYNEEMA/ BLACK TECHNORA
Asymmetric Spinnaker: 55.5m² (182.08 ft²) + carbon bowsprit
HARKEN Performa winches
Navigation instruments
Covers for foresails
Mainsail cover
General purpose cover for usage afloat with the mast in place
Carbon mast with 2 trapezes and light halyards
Pivoting centerboard with winch lift 1.80m
Carbon boom
Carbon rudder
Integrated electric motor or petrol outboard on removable chair
Emergency pack
Mooring/ 2 fendr kit
Transport cover or for dry wintering + mast and boom covers
Road trailer
Antifouling
INTERESTED IN CAPE COD?
You want to talk about it by phone or email. Leave us your contact details- including your sailing area –  to be contacted!