A desire to escape
Captain K – On the "bassin d'Arcachon"
Feedback from a conquered owner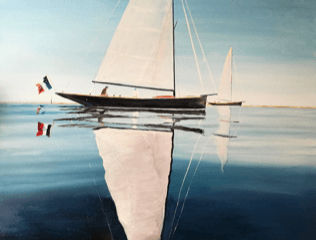 For her eighth season, Captain K is evolving on the Bassin d'Arcachon to the delight of her owner and her crew.
Born N° 5 of her lineage, this Cape Cod is in the water every year from June 1st to the end of September or even the end of October.
After several experiments, the solution of wintering outside, on the grounds of a shipyard in Gujan Mestras was chosen. The boat remains masted and is protected by a cover that completely envelops it from the waterline.
This formula reduces maintenance and handling to a minimum.
Version with teak deck, with a good cleaning at the beginning of the season.
The Cape Cod , beyond its aesthetic qualities, is suitable for both family and sports programmes:
Approved for eight people when sailing, its large cockpit allows you to gather around the folding table in front of a few dozen oysters and white wine, a must for sharing strong moments with friends!
Her exceptional 45 cm draught makes her accessible to the entire water surface and allows her to beach on the sandbanks or at the foot of a restaurant….
It is a good walker and is a good choice for local and friendly regattas involving traditional local boats and various types of mixed canoes.
From fifteen knots of wind, an automatic reefing system (Selden patent) allows even single-handed sailors to reduce the sail very easily. Its very well-defended lines at the front prevent it from being too "watered" but the heel increases the drag and with a reef there is no loss of speed, the boat is well within its lines.
All the manoeuvres are carried out at the stern, within reach of the helmsman, so that he can adjust the sails alone or with a novice or family crew.
The configuration of the Basin has led us to a forward sail plan consisting of a jib on a furler and a code 5 gennaker on a furler. The latter is easily set up in scissors on downwind points of sail and can be carried upwind with a full load. It facilitates a return against a strong current.
The only changes to the original equipment were
A three-bladed, steerable propeller which, at the same engine speed, allows a greater speed of more than 20%. It limits the drag under sail and facilitates port manoeuvres!
Lazy bags make mainsail lowering easier.
The mooring system with a light aluminium Fortress anchor with a leaded textile line is particularly well suited to family sailing.
In short, this boat has met all our expectations and has made all those who have come on board happy.
Beautiful and fast, Captain K is the object of many admiring glances!