Press
Voile Magazine – Sailboat of the Year 2023 – Bernard Rubinstein Award
January 2023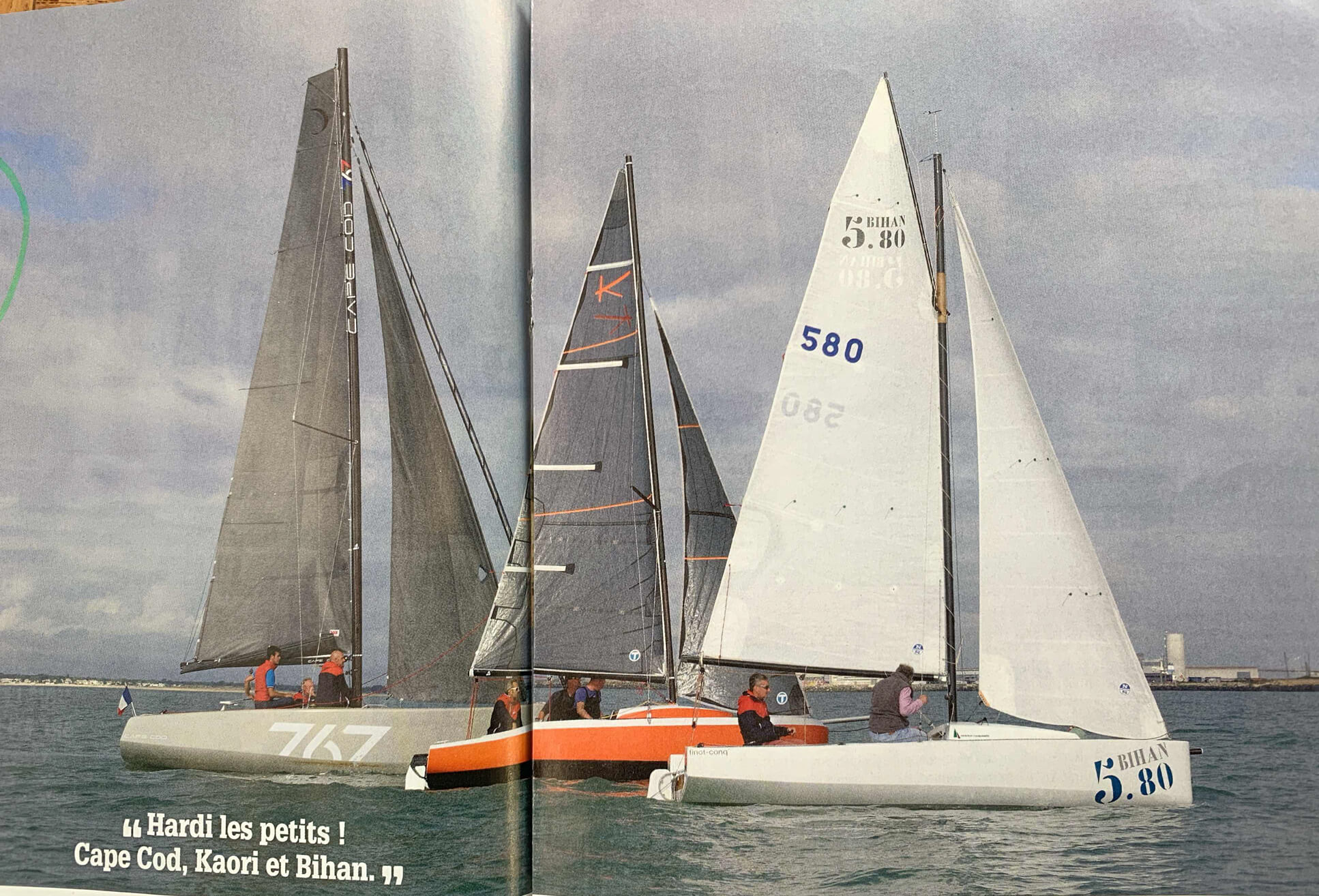 CAPE COD 767 THE BIG HIT
The Bernard Rubinstein prize. This is both the boat that our friend would have liked and the new name of the Jury's special prize… And in fact, the jury was pleased with the new Cape Cod, a chic but not snobbish day-boat that is sure to win hearts.
HAVE YOU NOTICED?
It's often when designers and builders enjoy themselves, rather than chasing after the hypothetical desires of their customers, that they make the best boats. And this is typically the case with this Cape Cod 767 born from the imagination of Hervé Nollet and well served by the talent of his collaborator Thomas Seitz.
Perhaps tired of building and distributing the Cape Cod 896, a very elegant neo-classical day-boat, Hervé Nollet dreamed up a boat with sober, taut, contemporary lines, efficient but easy to handle on all types of water, to lay on all types of beaches.
A big change of atmosphere, but the same passion and the same high standards of performance, ergonomics and finish. And above all, the same success at the end: the 767 is a marvellous boat for cruising, for weekends, fun to steer, an excellent walker and of astonishing elegance. Only its builder, eternally dissatisfied, sees the defects of this prototype. The next ones will be a little lighter, will have a better sized cockpit table. But all those who have been on board, and even those who have just laid eyes on the Cape Cod on the water, admit that Hervé Nollet and Thomas Seitz have succeeded in creating an exceptional boat.
AN ELITIST SIDE BUT ALSO PRACTICALITY
Certainly expensive in view of its size and its programme, and this was one of the arguments for not making it our Sailboat of the Year, but quite simply marvellous. And clever too, like the electric outboard mounted on a sort of tilting chair that moves from the transom to the locker at the bottom of the boat, the ironing board-like drop-down table, or the cramped cabin under the small foredeck, but capable of accommodating two people for a night or two. The Dream for a honeymoon in coastal camping mode*!
In figures…
Hull length: 7,67m. Width 2,54m Draft : 0,22-1,80m. Displacement 1 100 kg. Ballast 130 kg Sail area upwind 31,90 m2 symbols. Spinnaker: 55,50 m 2 
Architects : BE Rosewest Material: Sand Glass/PVC Builder: Rosewest Price: 130.000 € –