Testimonials
Cape Cod 896, the advantages of an integral dinghy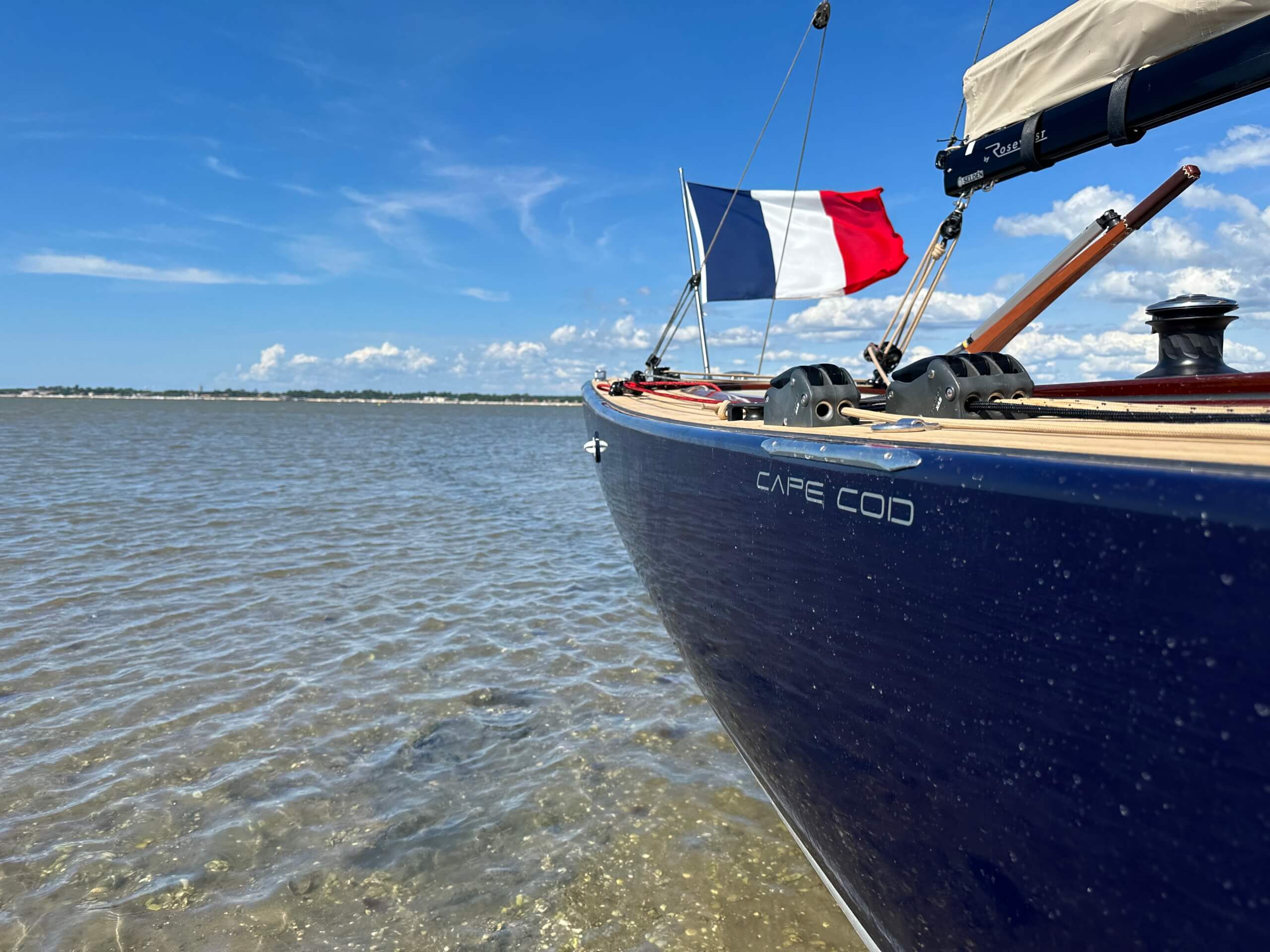 A decisive match race 🙂
Yesterday in the Bay of Arcachon. A chase with a magnificent bottle-green one-off, very dynamic and well steered in the channel. A dream come true…
We're on starboard tack. She turns abruptly in front of us around a locker. No water to starboard, we gybe. Oops, no water… We should have tacked to port.
The bowsprit of the green boat is closing in too fast. It's taking on our mainsheet. I leap to free the tensioned bowsprit. It's going very fast, but it's taking a long time.
We've come close to a disaster… Relief… Phew, free at last… Not for long…
Cape Cod 896, the beached dayboat
The safety device on the rudder worked, and it's now in the up position. We need to raise the daggerboard quickly. I jump on the winch but over-pattern in my haste. Fortunately, my helmsman reacts with the jam cleat and releases the end to finally raise the daggerboard aft to 42 cm. The boat's intelligent design and finish will pay off again, as it's designed to lay flat… and beacher.
We're off for an involuntary "gardening" session with the mainsail up. It's too late, we're planted and well planted. Yet the engine has been started to avoid chaos. It purrs in the mud…
The other protagonist struts through the channel, showing off his perfect knowledge of the water and its underwater relief – the advantage of being local in this kind of event!
The jib is rolled up without complications, but the mainsail is difficult to lower, with 15 knots of wind 3/4 astern. The tension is there. We can gradually see "things" emerging on the surface, as long as they're not oyster tables…
A friendly cockpit!
We finally drop anchor. Calm returns, and a sea of shells surrounds us. They look big because they're so close…
At the stern, a good 60 m, the mud is very soft. It's impossible to go down, or rather to go up if you go down…
We look at each other… not proud, then laughing like kids…
On the bright side, we hadn't booked a restaurant… We know where we'll be dining this evening… The cockpit of the Cape Cod 896 is huge and convivial. This incident offers us an unprecedented opportunity for an afternoon alone in the world, in silence and nature, in full sunshine, with a gentle breeze caressing us, plenty to drink and 360° of absolute ecstasy.
Almost 2 hours of downhill and the same of uphill. Release. The engine spits out well, the sucked-in sludge is retained by the filter. Back at the quay at 10pm. Arcachon greets us with a rosy sunset.
Moral: the winner is not necessarily the first to reach port…